Key Benefits
All our snacks are Keto Friendly. They are packed with good fats and sweetened with pure Monk Fruit juice, making them the perfect keto fat bomb. With 1 - 2 g net carbs and 15 - 16 g of healthy fats per square, you can enjoy our healthy chocolate squares while staying in ketosis!

We source all plant-based ingredients for our healthy chocolate snacks. Nutrient-dense plant-based foods are great for keeping your gut healthy (and happy) and are an excellent source of fibre. If you follow a plant-based or vegan lifestyle, try our plant-based chocolate and enjoy its smooth, creamy mouthfeel.

We believe that eating minimally processed whole foods can leave you feeling good. So, we promise to make no compromises in our formulation and always choose natural ingredients. That's why we will never add any refined sugars, additives, or seed oils. Just read our list of ingredients to see the foods you know and love.

Monk Fruit is a natural plant-based sweetener from Southeast Asia that is up to 200 times sweeter than sugar. We believe Monk Fruit juice is a great alternative sweetener because it has little to no effect on blood sugar levels, has essentially 0 calories or carbs and is safe for all ages to consume.
Feel Good About The Foods You Eat
At Mindful Monk, we want you to enjoy guilt-free snacking while caring for your health. We are passionate about selecting clean ingredients so you can feel good afterwards. Our chocolate squares make snacking easy and keep you fuller longer with the perfect balance of healthy fats, protein and fibre. Made with all natural ingredients, these delicious treats are great for every lifestyle.
What Is Monk Fruit?
Monk Fruit, aka Luo Han Guo, is a small round fruit found in China and Southeast Asia. Once ripe, the fruit is harvested and immediately crushed to separate the juices. The juice is then put through a water extract to separate the mogrosides. Mogrosides are the antioxidant compound that gives Monk Fruit extract its sweetness and is up to 200 times sweeter than refined sugar. Since this superfood sweetener is so potent, a little bit goes a long way, making it essentially 0 calories and 0 carbs. Check our our blog here to learn more.


Want to reduce the amount of sugar in your life one chocolate at a time? Then you will want to try our chocolate snacks sweetened with pure Monk Fruit juice.
Mindful Monk
Regular price
Sale price
$32.45 CAD
Unit price
per
Sale
Sold out
Our peanut flavour is the perfect blend of organic chocolate and peanut butter, delivering a rich, smooth flavour and truffle-like creaminess. Enjoy our dark chocolate version of a peanut butter cup with just the right amount of sweetness.
Testimonials
Hear From Our Customers
Katherine

I am all about tasty treats that are made out of nourishing and pure ingredients! Thank you Alice for bringing this much needed product to the market! You are doing the world such a huge favour.
Justyna

Delicious! I am always looking for treats that are an indulgence but still good for my body! I am a mom of four, living a low carb/keto life-style and these little snacks have been perfect.
Jared

This fudge is so delicious! There aren't many wellness products that don't have that 'wellness' taste to it but this is one of them. I highly recommend it.
Mindful Monk
Regular price
Sale price
$32.45 CAD
Unit price
per
Sale
Sold out
If you love chocolate covered almonds, then our almond flavour is the ONE for you. Dark, rich, and creamy with a hint of saltiness, it's no wonder our Almond Squares is a fan favourite. Our monk fruit + dark chocolates are the perfect guilt-free snack packed with nutritious ingredients that leave you feeling good after eating one square (or two).
Mindful Monk
Made With You In Mind
Eating well is the foundation of good health. We source the cleanest, natural ingredients to create functional foods with your health and happiness in mind. Here at Mindful Monk, you are our priority! That's why we developed our chocolate snacks to suit your lifestyle so you can feel good inside and out.
CURB YOUR CRAVINGS

We make our products with nutrient-rich ingredients like healthy fats, fibre, and protein, which help you stay fuller for longer. Say goodbye to multiple trips to the snack bin and hello to satiating your hunger. We are helping you create healthier habits with ease with our delicious chocolate snacks.

FUEL YOUR BODY

Both fat and carbs are sources of fuel our bodies need to thrive. Our functional fudge fuels your body with healthy fats, giving you a boost of energy when you need it most. Plus, our chocolates are packed with polyphenols, minerals and vitamins and are a delicious fat source for those on a vegan or plant-based diet.

SATISFY YOUR HUNGER

Looking for a snack or sweet treat that won't compromise your health goals? You've found it. Rather than being tempted by conventional chocolates, chips or granola bars that make you hungry again an hour later, indulge in our mindfully made healthy chocolate snack filled with thoughtful ingredients that leave you feeling good.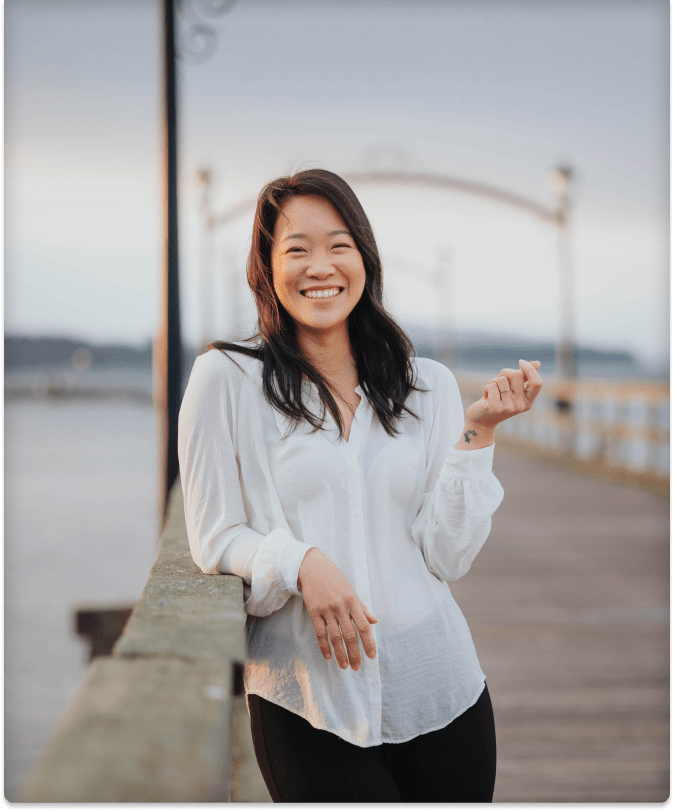 About Us
Meet the Founder
Hey, it's Alice. If you have been searching for a healthy snack made with clean natural ingredients that won't spike your glucose levels AND gives you energy, you've found it!

My story began when I experienced gestational diabetes in both of my pregnancies. With the first, I relied on medication and a prescribed diet to manage my glucose levels. But during my second pregnancy, I learned to use food as medicine and had an AHA moment when I realized it worked. The secret to curbing my sweet tooth cravings was a version of the functional fudge you see today. These delicious treats are 100% diabetes-friendly and sweetened naturally with pure Monk Fruit juice.

These chocolate snacks allowed me to stay on track without compromising my health goals, and I knew if it helped me, it can help others too!
THE INGREDIENTS
Each ingredient is carefully selected for its great taste and well-known health benefits. We list our ingredients so you can feel good about each bite you take. Clean and simple, perfect for keto, low-carb, plant-based or vegan lifestyles. Click an icon to learn more about what goes into our chocolates.
Organic Cocoa Powder

Monk Fruit Juice Concentrate

MCT Powder

Organic Oat Fibre
Support Mindful Monk by visiting any of our retail partners.
We are located in the cooler section next to the kombucha.
Full Retailer List
FAQs
If you don't use sugar, what do you use to sweeten your chocolate? Does it still taste good?
Yes! Although we do not use added sugar, sugar alcohols, or stevia, we only use pure monk fruit juice concentrate to sweeten our products. We want to provide you with chocolate fudge that tastes as good as conventional chocolate. But without all of the sugar and saturated fat in conventional chocolate.  
If you love chocolate and want a healthier lifestyle, you've come to the right place! Go ahead, grab a pack of our chocolates and enjoy yourself.
Can I eat your chocolate squares if I am not following a keto or lchf diet?
Yes, you can. The nutritional information for one of our Mindful Monk chocolate is comparable to a conventional chocolate bar. The main difference is that our carb count is significantly lower, between 1g to 2g of net carbs per square. Plus, the healthy high-fat and fibre content will leave you feeling satiated after eating just one square. If you are consuming more than 150g of carbs/day (approx. 3 cups of cooked pasta), we recommend eating one square a day because your body will naturally burn the carbs for energy first.
Our chocolates make it easy to reduce the amount of refined sugar in your diet because we all know that s*** is toxic to our health. So now you really can have your chocolate and eat it too!
How many calories does your chocolate contain?
Each Mindful Monk chocolate contains 180 calories, 15g of fat, 3g of protein, and the best part is there is no added sugar. It's handmade with natural ingredients and no fillers or stabilizers to extend its shelf life. Our chocolate fudge is keto and lchf friendly and one of the best desserts for diabetics that helps you curb your cravings for sugary chocolate. You can enjoy this sugar free dessert and feel fuller while doing it!
What is a Mindful Monk chocolate square, and why is the fat content so high?
Our chocolates are also known as a fat bomb which originates from the keto diet. Fat Bombs are a snack or treat with a high-fat source, sweetened with a low-carb sweetener and a touch of protein.
Fat bombs typically use one of three ingredients as a base. These are coconut oil, butter, or cream cheese. Each one is a healthy source of fat, but they have one thing in common, they either melt or get too soft at room temperature. So we wanted to make a fat bomb that wouldn't turn into a hot mess if it was sitting out for a bit and could travel for a couple of days if needed.
What makes your chocolate a better option than other chocolate?
We make our products clean and simple with natural ingredients. It's a proven fact that chocolate is high in sugar and saturated fat, which can be a risk to your overall health. Our chocolate squares are made without added sugars, sugar alcohols, soy or sunflower lecithin, palm oil, and hydrogenated oil.
With the natural ingredients we use, you're getting multiple sources of healthy fats such as natural Venezuelan cocoa butter, natural Venezuelan cocoa powder, organic peanut butter, organic peanuts, natural almond butter, and natural almonds. Enjoy sugar free chocolate without feeling guilty!
How will a monk fruit sweetened chocolate square give me a boost of energy and keep me full longer?
Our healthy chocolates provide guilt-free indulgences because they are made with clean ingredients and without any added sugars.
Yes carbs are a source of fuel for our body but so is fat. The fats used to make our fudges come from cocoa butter, cocoa powder, nut butter, and MCT powder. Each of these fats can be used as energy once your body has used up its carb source. Check out our ingredients page to learn more.
Now how does it keep you full longer? The combination of high fat, protein, and fibre creates a feeling of fullness. So you will not experience the crash and burn you would typically have with conventional chocolates or treats high in carbs.
Is it true high saturated fats in the chocolates aren't good for you?
It depends on who you're asking. Some will say yes, some will say no. But lucky for you the saturated fat in our healthy chocolates come from natural cocoa butter, so it is different than traditional saturated fats from animals. The saturated fat in cocoa butter is stearic acid which does not raise LDL cholesterol because it is converted in the liver to oleic acid, a heart-healthy, monounsaturated fat (source).
Does it taste like traditional chocolate?
Our chocolate squares are not nearly as sweet as traditional fudge because we do not use sugar. We use a natural sweetener called Monk Fruit (aka Luo han guo and siraitia grosvenorii) in a juice concentrate form to give you a sweet experience for your taste buds. The best way to describe the flavor would be decadent dark chocolate goodness.
Try a sample pack today, and let us know what you think 😉!