Perfectly Peanut – Multi-Pack
Perfect Ratio of Vegan Chocolate and Nut Butter in Our Keto Bomb Squares!
Regular price
Sale price
$32.45 CAD
Unit price
per
Sale
Sold out
Our peanut squares are the perfect blend of organic dark chocolate + monk fruit and peanut butter, delivering a rich, smooth flavour and truffle-like creaminess. Enjoy our healthy, plant based, keto-friendly, dark chocolate sweetened with pure monk fruit juice version of a peanut butter cup with just the right amount of sweetness.

Our favourite Mindful Monk rituals are:

Pairing with your favourite drink (coffee, tea, water, or wine)

Eating it as a 3 PM snack to hold you over until dinner
Adding it to the end of your meal for dessert
Using it as a keto fat bomb / keto snack to increase your daily fat intake
Breaking fast and fueling your body with good healthy fats
*20 and 30 pieces are packaged in bulk packs
(Final weight of product is approximate as each piece is handcrafted with care)

Share
Nutritional Information
A Healthy Choice For Your Daily Snacking
Are you looking for better nutrition choices? If you are ready to make eating well a part of your practice, you are at the right place! Try our Functional Fudge Squares. Our snacks are made from natural ingredients and packed with good fats and low carbs to curb your hunger.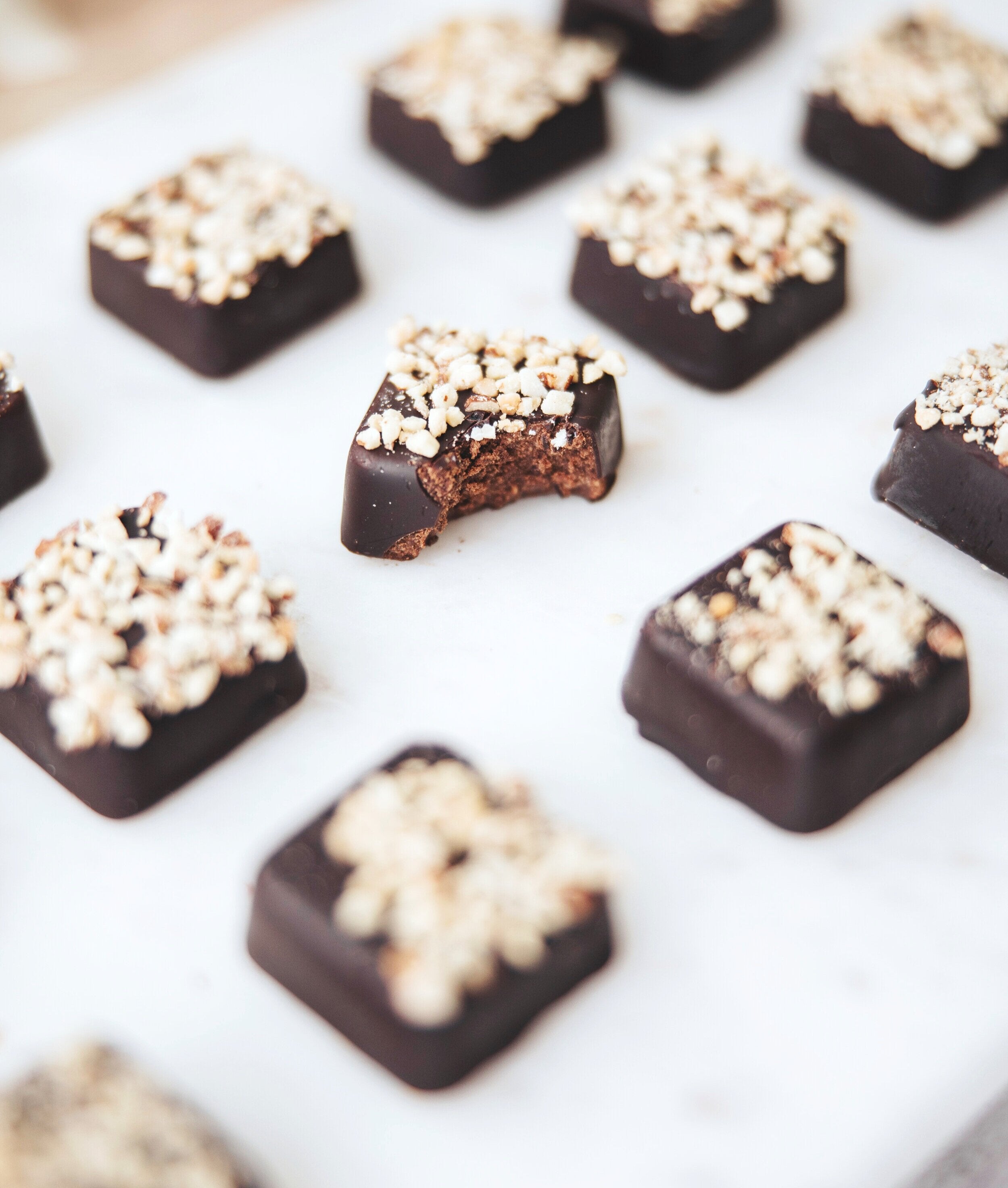 INGREDIENTS (English)
Organic peanut butter, Organic cocoa butter, Organic cocoa mass, Organic cocoa powder, Organic MCT powder (organic fractionated coconut oil, organic acacia fibre), Organic peanuts, Organic oat fibre, Monk fruit juice concentrate, Organic vanilla extract, Himalayan pink salt
Contains: Almonds May Contain: Peanuts, Gluten
LES INGREDIENTS (French)
Beurre d'arachide biologique, Beurre de cacao biologique, Mass de cacao biologique, Poudre de cacao biologique, Poudre de TCM biologique (huile de coco fractionnée biologique, fibre d'acacia biologique), Arachides biologiques, Fibre d'avoine biologique, Concentré de jus de fruits de moine, Extrait de vanille biologique, Sel rose de l'Himalaya.
Contient: Amandes Peut Contenir: Arachides, Gluten
Eat Chocolate You Can Feel Good About
All our snacks are Keto Friendly. They are packed with good fats and sweetened with pure Monk Fruit juice, making them the perfect keto fat bomb. With 1 - 2 g net carbs and 15 - 16 g of healthy fats per square, you can enjoy our healthy chocolate squares while staying in ketosis!

We source all plant-based ingredients for our healthy chocolate snacks. Nutrient-dense plant-based foods are great for keeping your gut healthy (and happy) and are an excellent source of fibre. If you follow a plant-based or vegan lifestyle, try our plant-based chocolate and enjoy its smooth, creamy mouthfeel.

We believe that eating minimally processed whole foods can leave you feeling good. So, we promise to make no compromises in our formulation and always choose natural ingredients. That's why we will never add any refined sugars, additives, or seed oils. Just read our list of ingredients to see the foods you know and love.

Monk Fruit is a natural plant-based sweetener from Southeast Asia that is up to 200 times sweeter than sugar. We believe Monk Fruit juice is a great alternative sweetener because it has little to no effect on blood sugar levels, has essentially 0 calories or carbs and is safe for all ages to consume.
3 Great Reasons These Will Help Satisfy Your Cravings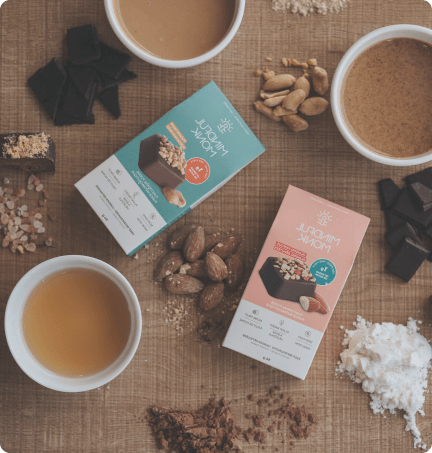 Packed With Nutrients To Curb Your Cravings
Calm your cravings naturally with our perfectly sweetened blend of good fats, fibre, and protein. We carefully crafted our Functional Fudge with clean natural ingredients so that you can feel good during and after you eat our snacks. With 15 g of healthy fats, 5 g of protein, and 3 g of fibre per square, you'll feel energized and satiated for up to two hours. Who knew eating well could taste so good?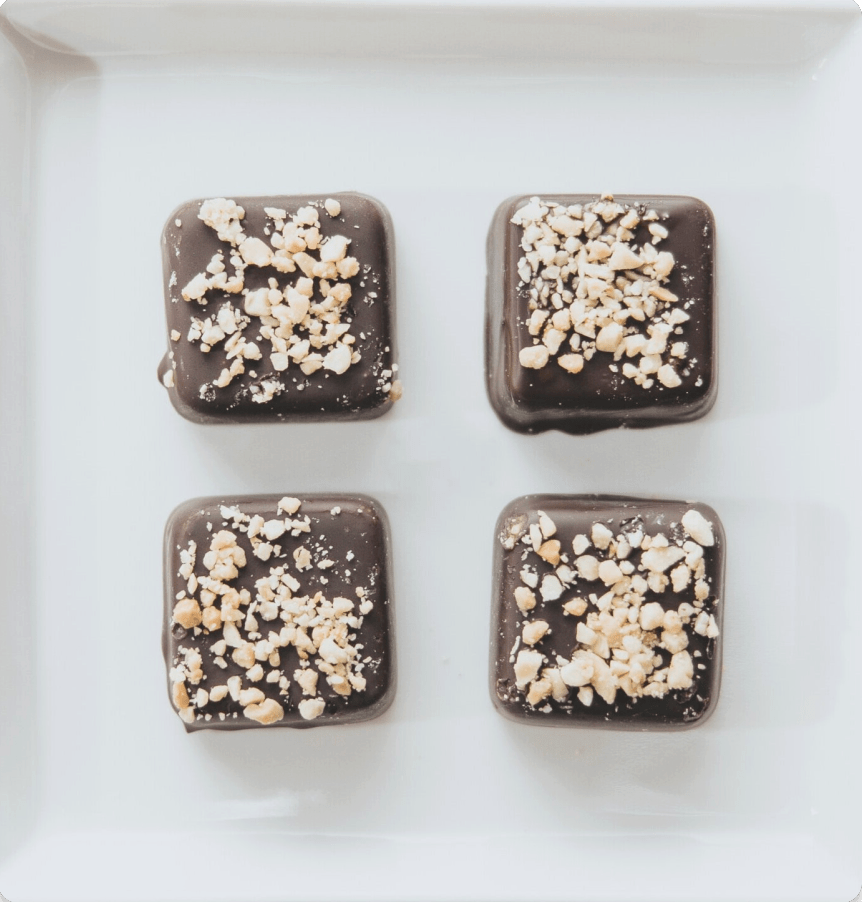 Sweetened With Pure Monk Fruit Juice
We are proud to be the first in beautiful British Columbia to sweeten our handcrafted chocolates with pure Monk Fruit juice. We love this superfood sweetener for its natural antioxidant properties and great taste. You'll love that it is safe for all ages to consume, has minimal effect on your glucose or insulin levels and has essentially 0 calories or carbs.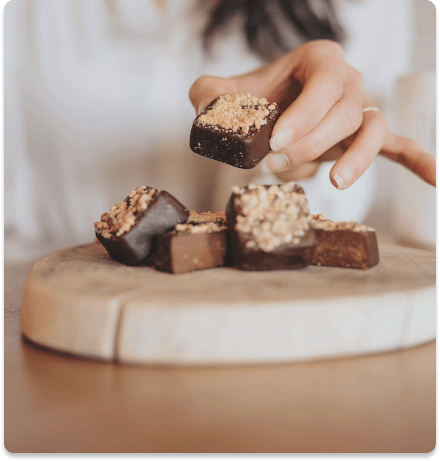 Crafted For Your Lifestyle
We know first-hand that eating minimally processed whole foods can leave you feeling good inside and out. And we want to support you by providing food choices that can lead to happier, healthier, and longer lives. So we made sure that all the healthy snacks we crafted could suit any lifestyle. Our products are low carb and packed with good fats for those who live a LCHF, keto or diabetic lifestyle. Right now, all our products are made with plant-based ingredients that are perfect for those leading plant-based or vegan lifestyles. Or, if you are simply looking to minimize your sugar intake, we are here for you too!
Storage Recommendations
These Chocolates Require Refrigeration
Our chocolates are handmade with natural ingredients. Here are our recommendations for maximizing product quality and appearance:
Ambient room temperature (22˚C/71.6˚F): 30 days
Refrigeration (4˚C/40˚F): 9 months
Freezer (-18˚C/4˚F): Up to 2 years*
*Store in its original packaging and defrost in the refrigerator to ensure no drastic changes to temperature.
Make One Good Choice
Before a meeting...
In Between Clients...
During "me time"
When You're On The Go!
Read What Our Customers Have to Say About Perfectly Peanut